I usually build an image collage when I'm working on a big project. Although I try to keep track of the model and photographer for acknowledgment, this one has me stumped: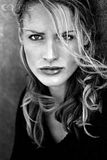 (ETA2: Sorry! Elyssa/Ely are the name that I saved the file under, rather than anything associated with the original photo.)

As you can see, the image came from Corbis (Corbis watermark, top left.) The style and aesthetics alo feel modern to me--after combing through a lot of early Hollywood publicity shots, I'm almost positive this image isn't that old. The more defined curls in the hair also suggest it was taken some time since the early 90's.

I suspect the model is a European actress or musician, but only have Corbis' stocking biases to justify the guess. (Many black-and-white portraits of French celebs.) I have no guesses at all on the photographer. And of course it is also possible that she is a completely ordinary person who had a headshot or two taken, and I'll never find her or the photographer. But I thought I should try.

The original image is 320 x 480, and was accessed 22 May 2008. It is 80.7 KB.



On Corbis, combinations of the following keywords: "blond/e", "woman", "portrait", "headshot", "eye-contact", "black and white", "young woman." I did not see the same image; some of the actresses pictured looked similar, but were probably not the woman from the photograph.

I also tried a general internet and image searches with Google, using the size and color specifications, and had no luck. Also keywords "woman", "portrait", "headshot", "blonde"

Finally, I tried the reverse-image search, TinEye. No matches.



We considered: Blake Lively, Ali Larter, Molly Sims, Julie Delpy, Clemence Poesy, Sophie Marceau, Ludivine Sagnier, Charlotte Gainsborough, Melanie Laurent, Imogen Poots, Cecile de France, Natacha Regnier, Nora Arnezeder. (ETA: Daryl Hannah, Angela and Audry Lindvall)

I'd be really grateful if anyone has suggestions!